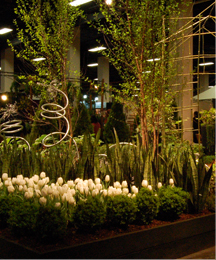 GARDEN DESIGN
A Beautiful Garden Adds Style and Tranquility to Any Space
Gardening is a great escape from the pressures of everyday life. It's a perfect activity for creative people who want to live happier and healthier lives. Your garden design is an extension of your personality and style. You can grow your favorite fruits and vegetables, incorporate beautiful stone and woodwork into the outdoor space, and place decorative seating throughout the garden. TM Design is a Columbus, Ohio garden design company that specializes in creating beautiful, functional, and innovative outdoor spaces. Our landscape architects are capable of bringing any garden to life. Columbus, Ohio is the perfect home for our creative garden design company because it encompasses such a large and eclectic mix of urban and rural areas.
TM Design has worked with residential and commercial clients of all shapes and sizes throughout the Columbus, Ohio area. The projects we work on are often complex, but our design process always remains simple. It all starts with an initial meeting to discuss your vision. Once we understand how you are planning to use your new space and how you would like it to look, we'll review the materials that you'll need to make it happen. Next, we'll travel to your home or business and survey the planned area. This will allow us to understand the nature of the landscape and help us learn how to best shape it. Once we have a solid foundation of knowledge in place, we'll create a concept of your garden design. This will be presented to you for approval before any ground is moved. Lastly, once you've given us the stamp of approval on a final concept, we will get to work building your new space!
We take great pride in every garden design project that we build and our goal with every installation is to create a space that the client can take pride in as well. A beautiful garden can add character to any home or business. If you are interested in learning more about how TM Design can help you create the garden of your dreams, contact us today to get the process started.